Below are descriptions and photos of the various pieces of equipment. Having a A factory that doesn't have a well-designed manufacturing system in place to move the molds through the manufacturing process will end up being as chaotic as a bumper car ring at an amusement park. This guaranteed chaos will waste time and energy that should go towards producing the products that will make you money.


(

Click thumbnails to see larger view

)
1. The Set-Up Lines are where you set up and prepare the mold per the customer's order. These are also used as conveyor lines to move the molds to the next step.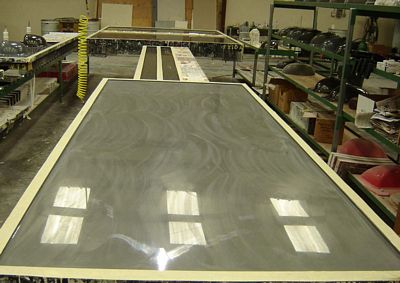 2. After the molds are set up you will transfer them to the Spray Booth where the gel coat will be applied. There are four types of gelcoat spray carts to choose from. There is a flat, a Tilt, a Rotate and a combo Tilt/Rotate.
3. After you've applied the gel coat it needs to partially cure before you can pour on it. In a cold climate this can take up to an hour but a Gel Coat Curing Tunnel will cut this time in half, eliminate a bottle neck, and keep the production line moving. If you're manufacturing in a warm climate a curing tunnel may not be required, but would keep dust and other contaminates from landing in your fresh gel coat.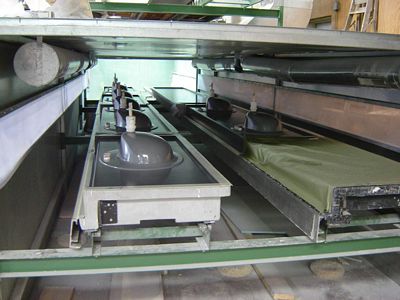 4. After your gel coat has cured you will move the mold to the vibrating table where the matrix will be poured. The vibrating table levels the matrix and allows the air inside the mix to rise to the surface. The matrix is mixed in one of three sizes of blenders; a 150, 250 or a 350 pound.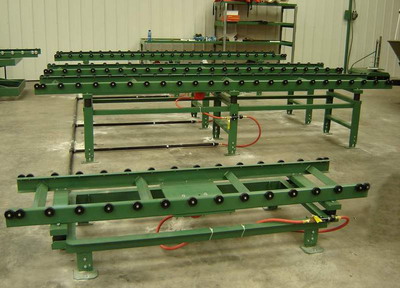 5.
Once the mold is filled you will move it to a Multi-Level Mold Storage Rack that can be up to five levels high and which obviously stores five times more molds in the same size factory than one that doesn't have a system. As you expand your market and your business grows, you will need to add additional molds to your inventory. Instead of a costly move into a larger building, you can simply slip in another storage rack to accommodate the added molds. (We keep future expansion in mind with every factory layout we do.)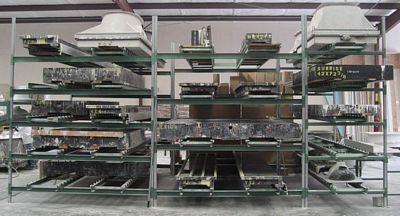 6.
After the marble is sufficiently cured, the mold will be pulled out of the rack using the scissor lift and rolled over to the De-Mold Line where the parts are removed for detailing. The mold is ready to run through the cycle again.


7.
Every part you produce will have flashing around the bottom outside edge that will need to be sanded off. A Dust Collector will contain the dust, giving you a healthier environment and preventing contamination on your freshly gel coated molds. There are several dust containment systems available including one that will recycle the air inside your factory, saving you substantial heating or air conditioning costs.
Densified Solid Surface equipment is also available so if you intend to produce solid surface, visit
here
. Much of the equipment is the same so if you intend on producing both, let us know and we'll do a layout to utilize the equipment for both products without duplication.